| | |
| --- | --- |
| | |
IHG AWARDS for 2001

Neil Gaiman and Gahan Wilson presented the INTERNATIONAL HORROR GUILD awards recognizing outstanding achievements in the field of horror and dark fantasy from the year 2001 Saturday evening, April 13, 2002. The event took place during the World Horror Convention at the Radisson O'Hare near Chicago, IL. The Design Image Group sponsored the awards this year. The previously announced recipient of the Living Legend Award, William F. Nolan, was also presented his award.

The following were honored:

NOVEL

THRESHOLD by Caitlin R. Kiernan (Roc) Other Nominees:

COLDHEART CANYON by Clive Barker (HarperCollins)
THE LIVING BLOOD by Tananarive Due (Pocket)
AMERICAN GODS by Neil Gaiman (William Morrow)
SEX AND VIOLENCE IN HOLLYWOOD by Ray Garton (Subterranean Press)
BLACK HOUSE by Stephen King and Peter Straub (Random House)

FIRST NOVEL

ORDINARY HORROR by David Searcy (Viking) Other Nominees:

BITTEN by Kelley Armstrong (Viking)
THE ASTONISHED EYE by Tracy Knight (PS Publishing)
RIVERWATCH by Joseph Nassise (Spectral Visions)
MOONTIDE by Erin Patrick (Wildside)

LONG FICTION

"Cleopatra Brimstone" by Elizabeth Hand (RED SHIFT) Other Nominees:

"On Skua Island" by John Langan (The Magazine of Fantasy & Science Fiction, August 2001)
"Eternity and Afterward" by Lucius Shepard (The Magazine of Fantasy & Science Fiction, March 2001)
"Her Hunger" by John Shirley (NIGHT VISIONS 10)
FATHER PANIC'S OPERA MACABRE by Thomas Tessier (Subterranean Press)
NEARLY PEOPLE by Conrad Williams (PS Publishing)

SHORT FICTION

"Onion" by Caitlin R. Kiernan (WRONG THINGS) Other Nominees:

"Worse Than Bones" by Ramsey Campbell (THE MUSEUM OF HORRORS)
"Angel of Mercy" by Joyce Carol Oates (The Spook, October 2001)
"Blood Money" by Norman Partridge (THE MAN WITH THE BARBED WIRE FISTS)
"Entr'acte" by David J. Schow (Gothic.Net V. 4.0 #3, Eye)
"Lunch at Charon's" by Melanie Tem (The Mammoth Book of Vampire Stories by Women)

COLLECTION

THROUGH SHATTERED GLASS by David B. Silva (Gauntlet Press) Other Nominees:

TALKING IN THE DARK by Dennis Etchison (Stealth Press)
DARK UNIVERSE by William F. Nolan (Stealth Press)
THE MAN WITH THE BARBED WIRE FISTS by Norman Partridge (Night Shade Press)
EYE by David J. Schow (Subterranean Press)

NONFICTION

WILD HAIRS by David J. Schow (Babbage Press)

Other Nominees:

IF CHINS COULD KILL: CONFESSIONS OF A B MOVIE ACTOR by Bruce Campbell (LA Weekly Books)
RAMSEY CAMPBELL AND MODERN HORROR FICTION by S.T. Joshi (Liverpool University Press)
BOOK OF THE DEAD: FRIENDS OF YESTERYEAR: FICTIONEERS & OTHERS by E. Hoffman Price (Arkham House)
DARK DREAMERS: FACING THE MASTERS OF FEAR by Beth Gwinn & Stanley Wiater (Cemetery Dance)

ANTHOLOGY

NIGHT VISIONS 10 edited by Richard Chizmar (Subterranean Press)

Other Nominees:

MEDDLING WITH GHOSTS: STORIES IN THE TRADITION OF M.R. JAMES edited by Ramsey Campbell (British Library Publishing)
THE MUSEUM OFHORRORS edited by Dennis Etchison (Leisure)
THE MAMMOTH BOOK OF VAMPIRE STORIES BY WOMEN edited by Stephen Jones (Robinson UK, Carroll & Graf US)
DARKNESS RISING VOLUME TWO: HIDEOUS DREAMS edited by L.H. Maynard and M.P.N. Sims (Cosmos Books)
BENDING THE LANDSCAPE: ORIGINAL GAY AND LESBIAN HORROR WRITING edited by Stephen Pagel and Nicola Griffith (Overlook Press)

IILLUSTRATED NARRATIVE

JUST A PILGRIM (5-issue miniseries) by Garth Ennis (writer) and Carlos Ezquerra (artist) (Titan Books)

Other Nominees:

DARK BLUE (one book) by Warren Ellis (writer) and Jacen Burrows (artist) (Avatar Press)
BUFFY THE VAMPIRE SLAYER: OZ (3-issue miniseries) by Christopher Golden (writer) and Logan Lubera (artist) (Dark Horse Comics)
THE FIRST ADVENTURE OF MISS CATTERINA POE (The Dreaming #56) by Caitlin R. Kiernan (writer) and Steve Leialoha (artist) (DC/Vertigo)
DESPERADOES: QUIET OF THE GRAVE (#1-5) by Jeff Marriotte (writer) and John Severin (artist) (DC)

PUBLICATION

The Spook

Other Nominees:

All Hallows
Cemetery Dance
Hellnotes
Weird NJ

ART

John Picacio

Other Nominees:

Colleen Crary
Gail Cross
Richard Kirk
Jason Van Hollander
Douglas Walters

FILM

GINGER SNAPS, directed by John Fawcett, written by John Fawcett and Karen Walton

Other Nominees:

EL ESPINAZO DEL DIABLO (THE DEVIL'S BACKBONE), directed by Guillermo del Toro; written by Guillermo del Toro and Antonio Trashorras & David Munoz
FROM HELL, directed by Albert Hughes and Allen Hughes. written by Alan Moore (graphic novel) and Eddie Campbell (graphic novel), Terry Hayes (screenplay) and Rafael Yglesias (screenplay)
JEEPERS CREEPERS, directed and written by Victor Salva
THE OTHERS, directed and written by Alejandro Amenabar
LE PACTE DES LOUPS (BROTHERHOOD OF THE WOLF), directed by Christophe Gans, written by Stephane Cabel & Christophe Gans

TELEVISION
---
The INTERNATIONAL HORROR GUILD also named prolific multi-genre author William F. Nolan as this year's Living Legend Award winner. IHG Living Legends are individuals who have made a meritorious and notable contribution and/or have substantially influenced the field of horror/dark fantasy. Previous recipients are Alice Cooper, Ray Bradbury, Clive Barker, Hugh B. Cave, Edward W. Bryant, Richard Matheson, and Harlan Ellison.
---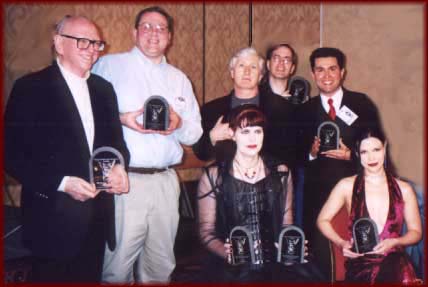 IHG Awards 2002: (L to R) Bill Nolan (Living Legend),
Hank Wagner (judge & accepting for David B. Silva, collection),
Bill Sheehan (judge & accepting for Elizabeth Hand, long fiction);
Caitlin Kiernan (novel and short fiction),
Bev Vincent (accepting for Richard Chizmar, anthology),
John Picacio (art),
Rain Graves (accepting for David J. Schow, nonfiction).

All graphic content on this site is © 2002 Chad Savage/Sinister Visions.
All other contect is © 2002 International Horror Guild.
All Rights Reserved.